Burial and Death Records in the UK
Case Study: A. A. Milne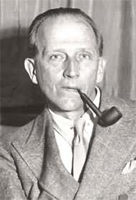 Alan Alexander Milne was born in Scotland but raised in London at Henley House School, a small independent school run by his father, John V. Milne. One of his teachers was H. G. Wells. He attended Westminster School and Trinity College, Cambridge where he studied on a mathematics scholarship. While there, he edited and wrote for Granta, a student magazine. He collaborated with his brother Kenneth and their articles appeared over the initials AKM. Milne's work came to the attention of the leading British humour magazine Punch, where Milne was to become a contributor and later an assistant editor.
Milne joined the British Army in World War I and served as an officer in the Warwickshire Regiment and later, after a debilitating illness, the Royal Corps of Signals. After the war, he wrote a denunciation of war titled Peace with Honour (1934), which he retracted somewhat with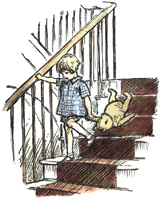 1940's War with Honour. During World War II, he was Captain of the Home Guard in Hartfield & Forest Row, insisting on being plain 'Mr Milne' to the members of his platoon.
Milne married Dorothy (nicknamed "Daphne") de Selincourt in 1913, and their only son, Christopher Robin Milne, was born in 1920. In 1925, A. A. Milne bought a country home, Cotchford Farm, in Hartfield, East Sussex. He retired to the farm after a stroke and brain surgery in 1952 left him an invalid. He died January 31st, 1956, at the age of 74.
Milne is most famous for his Pooh books about a boy named Christopher Robin, after his son, and various characters inspired by his son's stuffed animals, most notably the bear named Winnie-the-Pooh. After Milne's death, his widow sold the rights to the Pooh characters to the Walt Disney Company, which has made a number of Pooh cartoon movies, as well as a large amount of Pooh-related merchandise.
Finding A. A. Milne's Death Record
I began by doing a BMD Image Search in Death Records, using TheGenealogist.co.uk website. I knew Milne died in 1956, so I set the year to 1956. I then typed in his forename and surname, and clicked search.

Looking in the Jan-Mar records, I found him halfway down the first page, with the correct name and age. I am certain this is him.